Applemore win a Roots and Shoots Award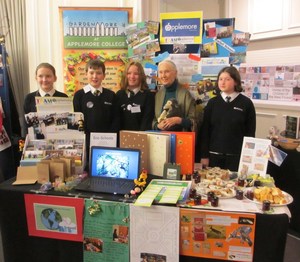 Applemore win a Roots and Shoots Award
Published on 2016-03-03 by Gill Hickman
Applemore's Roots and Shoots Award
Representatives from Applemore College's EcoCommittee attended Dr Jane Goodall's Roots and Shoots Awards at London Zoological Society on Thursday 3rd March. They were selected as one of 12 top schools out of 2000 Roots & Shoots groups in the UK, and asked to showcase the work they had achieved, the plans they had for the future and to talk to Dr Jane Goodall about their work. Jane Goodall's Roots & Shoots programme is about making positive change happen – for our communities, for animals and for the environment. With over 100,000 young people in 140 countries, the Roots & Shoots network branches out across the globe, connecting youth of all ages who share a common desire to help make our world a better place. Dr Jane Goodall talked to the students about how Roots & Shoots is becoming better known and is breaking down barriers and changing the world. She said the most important message she wanted to give was "Every single one of us makes a difference, every single day." This message is printed on the cup that Applemore College Eco Committee received as part of their Roots and Shoots Award.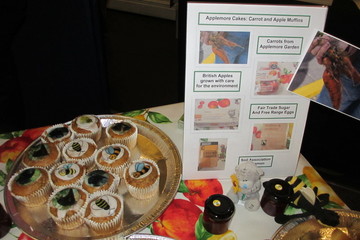 Although only four students were able to attend the event, the whole EcoCommittee had worked very hard to give a flavour of the environmental work that has been undertaken recently at Applemore College. Cakes were baked, lavender pots filled, photos mounted, plans for the Quiet Quad displayed and scrapbooks were created detailing the work on Energy, Waste and Recycling (including litter), and Grounds Development that the team are working on. In fact, there was too much to talk about! In the short time Dr Goodall was with the Applemore College students, she heard about the Quiet Quad development ideas and was amused to see herself featuring in a computer animation about chimpanzees! Gill Hickman, New Forest Sustainable Schools Co-ordinator, who nominated Applemore College Eco Committee for the award said "I was proud to be with Applemore College at the event. Their display was amazing and the students were really engaged in explaining their work."
Faith Pressey, Summer Risbey, Betsy Monk and Patrick Western, who represented Applemore College's Eco Committee, enjoyed sharing their achievements with visitors to their display, and investigating all the good ideas on other schools' stalls too. Patrick said "it was good to see what other people had done and learn how one school (who won the overall achievement award) raised £22,000 for the Nepal Earthquake Fund."
Mrs Williams, Lead Teacher for the Eco Committee, was delighted that the Eco Committee's work had been recognised with a Roots and Shoots Award, saying "The process of getting ready for the event and setting up the display when we were there demonstrated our Eco Committee slogan excellently – T.E.A.M. – Together Everyone Achieves More. Every member of the Eco Committee has contributed to the environmental achievements at Applemore College and should be proud of themselves that they have made a difference." The Eco Committee representatives were awarded a Roots and Shoots Awards trophy, a subscription to the National Geographic Kids Magazine and were accompanied home by Mr H Junior – a younger version of Dr Jane Goodall's mascot soft toy, who travels everywhere with her.