Breamore Eco Warriors present FAIRTRADE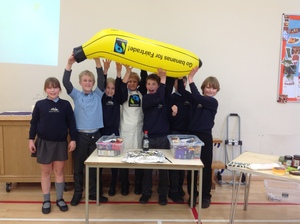 Breamore Eco Warriors present FAIRTRADE
Published on 2015-03-09 by Gill Hickman
Breamore Eco Warriors like a challenge. Moving swiftly between energy conservation, recycling and litter they were happy to present Fairtrade at a special Fairtrade Fortnight assembly.
They spent an hour preparing the assembly dividing the work with care. Those happy to speak would do just that; others decided to do other jobs! Ruby was put in charge of the laptop. Two quick run-throughs and the Warriors were ready.
A display of Fairtrade products illustrated the range of food products and non food products available, and the display was created at lunchtime.
The children explained that the familiar symbol is called the Fairtrade mark and went on to show that life is not fair! Firstly, the familiar 'banana chain' exercise was carried out illustrating that the workers are the losers while the retailers make most profit. Unfair! A Fairtrade chocolate cake was brought on and cut. However, the cuts produced huge inequality and there were cries of 'That's not fair!' Lesson learnt!
It is much easier for a teacher to present a Fairtrade assembly but there is no doubt that it is better for children to do it themselves. There may be mishaps and events don't always go to plan, but the Warriors will remember this assembly and the audience will remember them doing it!