Developments in Priestlands' walled garden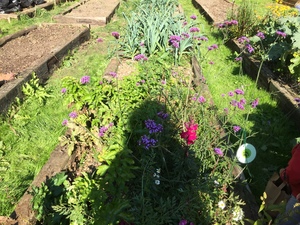 Developments in Priestlands' walled garden
Published on 2015-10-16 by Gill Hickman
Priestlands students have spent much of the first half of the autumn term in planning and it was good to be able to join them on a warm October lunchtime in the walled garden. There was no need to use the eco cabin; it was warm enough to sit on the grass. The school is developing its final action plan that they hope will take it forward to an Eco-Schools Green Flag. Recycling schemes are being relaunched and students have resolved to tackle the problem of litter. This was the focal point of discussion at this particular meeting.
School grounds are an obvious focus and the development of the walled garden into an educational resource for the whole school is very much to Miss Jamieson's credit and in mid-October it still looks superb. Herbs, fruit and vegetables are currently abundant; healthy piles of compost simmer gently and students derive huge enjoyment from the animals – goats in particular on the day of my visit.
The school has lent its walled garden on Friday lunchtimes to Sally Mitchell's Wild Heritage. Here she has been running a short course in learning outside the classroom for Pennington Children's centre.