Garden More at Applemore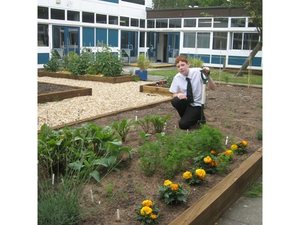 Garden More at Applemore
Published on 2015-10-01 by Gill Hickman
This article, written by Viv Carter, has already appeared in local newspapers but it acts as a great introduction to Applemore College's garden project so is included in this blog.
Students from Applemore College's Dyslexia Support Base and Learning Support Unit have transformed a grassy, unused area of Applemore College into a thriving, growing vegetable garden.
Earlier this year a small group of students had the idea of creating a stimulating outdoor classroom area for the whole College, where vegetables and herbs could be grown and used in the Food Technology Department and the College canteen.
The budding gardeners had an initial brainstorming session, persuaded staff to help and support them and then involved the whole College by running a Garden Project design competition. Ideas from the best designs were used to create a plan for the garden and in just one day, with the help of volunteers from the local community and Waitrose, the team created an impressive vegetable garden.
Max, one of the students involved, said "I felt quite happy on the day we built it because I was doing things that I was good at so I was able to be a good leader to the rest of the team".
Another team member, Michael, likes the garden project because "it makes the school look more alive."
Now that the garden is starting to grow, the students have lots of ideas to develop it further. They are aiming to plant more seeds, plants and fruit trees to enable the produce and crafts from the garden to be sold to create more money for future improvements.
Ben, an enthusiastic Garden Project student, is very aware of the help and support that the team has received: "I don't think we could have made our garden without the support of lots of people from our local community. Thank you to everyone who has donated to our project. I like our garden because it gets me outside more often."
Since the article was written, the Garden Club has gone from strength to strength. The Club has been more inclusive with all Applemore College students welcome in the garden area every lunchtime. The school has also been delighted to receive donations of equipment and plants, and thanks to the support of Waitrose Community Matters and Waitrose customers, the Garden Club can now buy a shed for their garden equipment.