Great performance from Bransgore at the schools' energy Saving Competition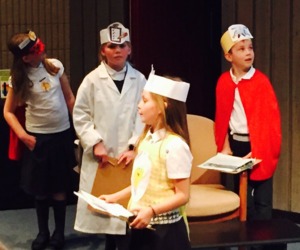 Great performance from Bransgore at the schools' energy Saving Competition
Published on 2016-03-10 by Gill Hickman
Bransgore Primary pupils gave a polished and entertaining performance at the New Forest and Southampton Schools' Energy Saving Competition. Their energy-saving superhero secured them a well-deserved second place and delighted the audience. The aim of the competition was to to convince the panel of judges that their energy saving action plan was the best!
Teams of pupils gave presentations on ways their schools could cut electricity and fuel bills and reduce their carbon footprints in a bid. The schools energy saving competition was held before an invited audience that included school staff, energy company representatives, local councillors and parents in the John Montague building at Beaulieu.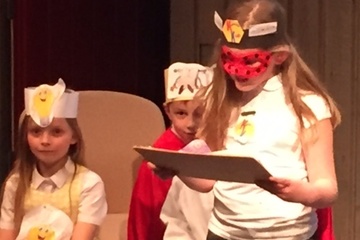 Ideas from schools ranged from turning off lights and appliances, to shutting outside doors, and use of the temperature cards for monitoring classroom temperatures. Some schools wanted to tackle poorly fitted doors and windows and fix defective heating systems. Others wanted to fundraise to fit solar panels and generate their own electricity.
Presentation styles were varied, ranging from an energy-saving play, a musical turn from Lymington Junior on their ukuleles and eco songs from New Forest, Ashley and Hyde Schools. Bransgore's creative superhero presentation not only earned them a second place but also a £180 Boostaboiler fuel efficiency unit donated by Magnatech. Just three points ahead were the winners Ashley, whose detailed action plan and assured performance included an outline of short, medium and long term energy saving goals for the school.
Well done Bransgore school for an exceptional performance! A great report from the Lymington Times follows