Grow Your Own to Make Your Own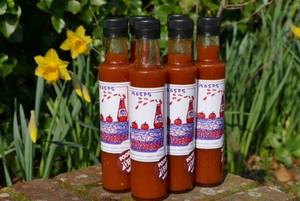 Grow Your Own to Make Your Own
Published on 2016-05-02 by Gill Hickman
Children at Milford on Sea Primary School made an unusual contribution to Milford Food Week by choosing a ketchup sauce recipe, designing their own ketchup bottle label, and visiting village shops asking them to stock their creation.
Using the professional expertise of Claire in her Spice 'n' Easy kitchen that is based in Milford on Sea, the ketchup was expertly made and retailed at £4.50 a bottle in selected village shops, at 'CakeFest' and Sunday's Food Market 350 bottles of 'School Ketchup' were made and sold, raising a welcome £600 for the school.
Congratulations to Imogen of Class 9 for her winning design!