Nature Tots are Go in Pennington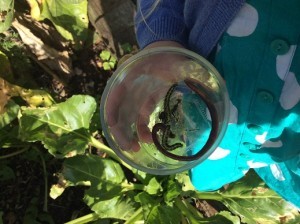 Nature Tots are Go in Pennington
Published on 2015-11-20 by Gill Hickman
Our new outdoor programme 'Nature Tots' was welcomed with lots of interest and we were delighted to run the course at two very different locations: Wilverley Inclosure in the New Forest using both the Open Forest and woodland, and Priestlands School using their walled garden area, a wonderful learning area with chickens, pygmy goats and pigs.
Initially a six week programme in affiliation with the Children's Centre in Pennington, sessions ran every Friday from 18th September – 23rd October. We wanted to offer an exciting outdoor programme for pre-school aged children to nurture their curiosity for the natural world. Parents and carers stayed to be involved and enjoy sharing nature discoveries with their little ones.
The Children's Centre 'Seedlings' bus was also on site for shelter if needed and for washing hands. The weather was dry throughout- except for the very first walled garden session when the heavens opened and our rain gear was truly tested!
The first session – 'a sense of wonder' helped the children explore the outdoors using their senses. Through the next sessions we explored woodland animal homes, wiggly caterpillars and the butterfly life cycle, autumn leaves, colours and ladybird spots, prickly hedgehogs and secretive squirrels….. lots of fun.
Feedback has been very positive and I've thoroughly enjoyed meeting everyone, watching their children explore the outdoors and sharing some of my favourite crafty activities. I can't wait to run another Nature Tots course early next spring
This was written by Sally Mitchell of Wild Heritage. Sally is available to run similar short courses