Ringwood School's Second Peace jam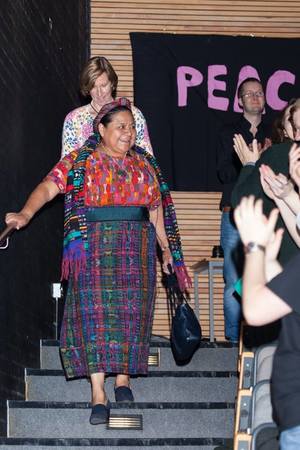 Ringwood School's Second Peace jam
Published on 2016-03-13 by Gill Hickman
When youngsters from Ringwood School were offered the opportunity to attend an international 'Peace Jam' event in March, Katy Barrett jumped at the chance. The 'Peace Jam' event, held at Winchester University, saw 200 young people from the United Kingdom, Europe and America come together to take part in the two-day conference. Nobel Peace Prize winner Native American civil rights leader Rigoberta Mechu Tum, who won the Nobel Peace Prize in 1992 for the rights of native people everywhere, was the conference's inspiring keynote speaker. She is a Quiché Indian from Guatemala and one of thirteen Nobel Peace Prize winners who work with PeaceJam. As well as giving truly inspiring messages during her talks, Rigoberta took plenty of time to answer questions, chat with everyone and be photographed with everyone!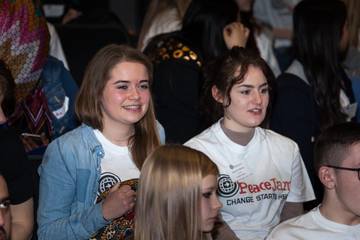 Following the recent murder of activist Berta Cáceres, students showed their support for indigenous peoples by holding up placards and banners, some of which they had written in Spanish to greet Rigoberta. As a gesture of solidarity, the message 'Justicia para Berta Cáceres' meaning 'Justice for Berta Cáceres' was displayed on the placards. Berta Cáceres, winner of the Goldman Environmental Prize in 2015, was instrumental in leading a movement to stop a hydro-electric dam being built without consulting the indigenous Lenca population in Honduras before her assassination.
Throughout the weekend, the PeaceJam conference discussed Nobel Peace Prize winners and various themes including identity, difference, power, privilege, peace and non-violence in an increasingly complicated world. Discussions were held in small "Family Groups" of secondary school students from all over the UK, who agreed their own group boundaries and were mentored by University students from Winchester, York, Cardiff and Bradford.
'Service' projects were undertaken on the Saturday afternoon. They included visits to local elderly residential homes, packing clothing for refugees, helping preserve river wildlife and learning about the provision of clean water. And Sunday afternoon's programme included a wide variety of workshops. They included highlighting violence against women and girls through photography, peer mediation skills, hip hop dance and how to disagree.