TRASHION at Priestlands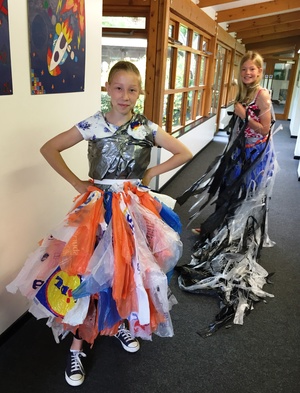 TRASHION at Priestlands
Published on 2015-07-09 by Gill Hickman
Priestlands Trashion
When teacher Charlotte Devonshire put out a call to staff for items surplus to requirement, she may not have expected the response she received. Everything arrived, from the bags and plastic items one might expect to the less obvious computer keyboards!
After studying photographs of exemplar 'Trashion' garments that had been printed from the internet, students in Years 7, 8 and 9 were invited to use the items to create a garment (or an accessory if that was too challenging) that would use the recycled items to best effect! The best items would be shown in the Fashion Show the following day.
Three of the very best joined Pennington Junior School for their Lymington carnival float. This will appear later in the blog. Look out for it at a later date.
As the photos show, some Trashion results were spectacular with a couple of girls boasting that they had already made their prom dress!