WILD art at New Forest Small School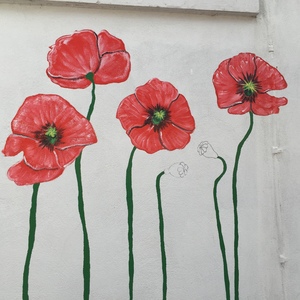 WILD art at New Forest Small School
Published on 2015-07-20 by Gill Hickman
New Forest Small School at Lyndhurst could scarcely be considered to be part of the Lymington and Pennington cluster of schools that had secured a 'Grow Wild' grant from Kew Gardens to make wildflower meadows.
Undeterred by this, teacher Alex James sowed a small pack of Grow Wild seeds and asked pupils at the school whether they would be interested in a piece of floral art.
Art is important at this school so enthusiastic pupils got together with Alex to put in a bid for funding. If successful, something wonderful could happen.
They were thrilled to obtain funding and this has allowed the school to use the services of a professional artist who is working with the youngsters to produce a series of very striking murals of wildflowers. We love the choice of flower!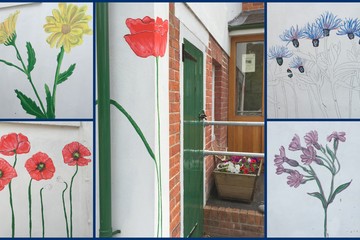 The school has now broken up for summer so students will enjoy completing their murals in September. Flowers will be completed and bees, butterflies and other invertebrates added!
We love the poppy that extends round a corner and is right at the school entrance!